Ollie Templeton: My Career in Five Dishes
As it approaches its fifth birthday, Marylebone mainstay Carousel is a restaurant whose mission statement is as unrivalled as ever. We meet head chef Ollie Templeton, and survey the five dishes that have defined the journey so far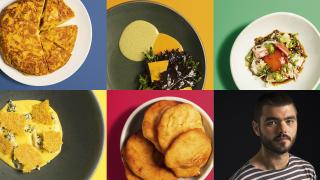 In a city that's relentless in its pursuit of the new, it can be hard to find a dining concept that's truly unique. But as Carousel prepares to celebrate five years in Marylebone, it's actually difficult to think of another restaurant like it.
In many ways, the most surprising thing is that it remains such a simple premise. Head chef Ollie Templeton, now 27, spent the majority of his childhood living in southern Spain, and was turned on to food and cooking by gardening and Jamie Oliver's first few cookbooks. He went on to cook at Exmouth Market mainstay Moro for two years, then took a short break to travel the world – and on his return to London, he, his brother Ed and his cousins Anna and Will didn't fancy working for other people. So, when an opportunity to set up a permanent version of the pop-up supper club they'd been working on presented itself, they jumped into it. The plan? To invite a different chef into their kitchen every two weeks: the chef brings the genesis of the menu, and Templeton and the staff liaise with farmers and suppliers, handle the logistics of service, arrange the drinks and cook alongside the guest chef.
In just shy of five years, the Carousel kitchen has welcomed in more than 150 names, from international big-hitters to younger chefs who've since gone on to achieve big things in food. It's also a model that makes the restaurant one of the best in London for young chefs looking to expand their repertoire. "It's rare that you're able to see so many different styles and ideas on a weekly basis," says Templeton.
Carousel has gone from strength to strength, from starting with just Templeton and another chef in the kitchen to counting more than 30 among its staff. "We've streamlined things," he says, when I ask how much has changed in five years, "but the experience is still the same. It's all about being comfortable and having a good time – it's not really serious in terms of how we go about things, but we're very serious about food, drink, and service. The core values of where we started are the same." His five dishes reflect a journey that's still pretty much unmatched in London's restaurant scene.
Maria's Tortilla
Maria is a really old family friend of ours. She's probably in her late 80s now, and she would look after us when we were really young. She was a mean cook and she'd make traditional Spanish dishes. The one my whole family is really obsessed with is tortillas. It's basically eggs, onions, potatoes and loads of good olive oil. She'd just kind of come over and cut potatoes and onions in her hands, really old-school style, and whip up these amazing tortillas. She'd make five or six and say "Wait for them to cool down!" and we'd have finished two straight out the pan. And there'd always be a lot of us around – I'm one of five brothers, and then loads of cousins – so it'd be a really competitive situation. As we got older, she taught us how to make it, and it involved four litres of really good olive oil. We'd all crowd around a table and eat, and that's a really strong memory for me, Ed, Anna and Will. And actually when we were designing Carousel, the reason we went for long tables was to kind of try and bring back that memory of communal family eating and being in the kitchen at our house in Spain, which just came really naturally to us.
Pumpkin seed praline
Henrik Noren
Henrik came in the January of our first year, when we were still in the infant stages of Carousel. We'd had a few pretty good chefs in already, but he was probably the first where we were like "OK, this is like a whole different style of cooking" – really simple but really strong ideas. Gro wasn't a vegan restaurant, but Henrik cooked amazing things with vegetables and nuts. He made this pumpkin seed purée where you toast pumpkin seeds and blend them with a mix of spices, really nice vinegar and oil and it goes glossy – it's kind of like peanut butter but super savoury. And he just did this visually striking and delicious dish with pumpkin and brussels sprouts. The idea of that pumpkin seed purée has stuck around. His had a Nordic influence, but then we've had chefs like Santiago Lastra – who's a great friend and an amazing cook – do a Mexican variation. It's cool how, whether it's Nordic or from Mexico, the concept is the same but they might end up tasting totally different.
Soy-cured egg yolk
Carl Ishizaki
At Sushi Sho, this is one of the opening dishes. They change their menu a lot but this is kind of a classic, and they still do it four years in. It's really simple but we've riffed on it in loads different ways, depending on how long you leave the egg in the soy, but essentially his version is that you leave an egg yolk in a mixture of soy and mirin for about six hours, and then Carl just puts different seafood with it – he did abalone, octopus, scallops, stuff like that – and then chilli and okra. It's just a really pleasing dish; when you puncture the egg yolk, it doesn't burst straight away, because it's cured, so it really slowly oozes and creates the sauce, and then it's got the umami from the soy. We've done a lot of dishes by curing egg yolks, and sometimes we'll dry them or we'll make a mayonnaise with it after it's cured, or we'll totally dry it and shave it. We'd been curing egg yolks before but we hadn't actually done it in soy sauce, and then we do it in lots of different things, whether it's a chilli oil and soy, chicken garam, or elderflower syrup – just having fun with it and applying it to sweet and savoury dishes.
Feuillette, stichelton and corn cream
Mathieu Perez
Mathieu Perez is this amazing, wacky French guy from Perpignan. I met him through one of our guests, but before he came to London we went and cooked at his place, when my brother and I went on a mini Europe tour to go and meet chefs and cook with them. I arrived at his kitchen and he was smoking a fag under the extractor fan, frying some octopus. When he came to cook at Carousel, he sent me the menu and I was like "It all sounds wicked. Dessert sounds strange, but why not?" It was so simple but I loved it on loads of levels. The biscuit is made by passing the shells of each individual corn kernel through a sieve, then with the cream and the sugar you spread it, bake it and then layer it up, so you've got this crunchy corn. We've always been really hot on food waste, so I just liked the fact that he had this pulp in a sieve and then he turned it into this amazing texture that went really well with the dessert. It tasted amazing, it looked really simple, and people who don't like blue cheese really loved it.
Flatbreads
Niklas Ekstedt
Niklas is quite a famous chef from Stockholm. He's got an amazing restaurant which is all wood-fired – he came to Carousel and it was super busy, and there was so much smoke used on the menu that we'd set the fire alarms off nearly every day in service. We were searing smoked reindeer hearts at the table in big cast-iron pans and serving them with this flatbread. I love bread – in my Moro days I did a lot of the baking, so I'd make flatbreads all the time – but what I liked about this was how light and fluffy it was. It was a sourdough but he'd put honey in it, and it's enriched with milk and butter, so it's got a bit of sweetness and a brioche-ness to it. Right now on our lunch menu we just do flatbreads and herb butter, and you eat the whole menu with bread. We've done variations on it where we deep-fry it, we bake it in the wood oven, or we'd dry them out and make crackers. We didn't change the recipe, because it's so great – we don't need to. We've probably used this recipe the most of all of these, so thanks Niklas for that. I don't know if he knows we're using it.