Le Creuset: la crème de la crème
Le Creuset's colourful cookware has been a firm favourite of home cooks for generations, with products built to exacting standards that last a lifetime
Sometimes the best stories are those that come about by accident. That's exactly what happened following the chance meeting of two Belgian industrialists, Armand De Saegher and Octave Aubecq, at the Brussels Fair in 1925. One of them was an expert in enamelling; the other a specialist in cast iron, and given the outcome was Le Creuset, you can probably guess the rest.
Since that day, and the subsequent creation of the brand's foundry in Fresnoy-le-Grand, France, the now-iconic Le Creuset has become a fixture of the kitchens of ambitious cooks. How do you spot one? It's easy: a splash of vibrant colour and personality leaping off the shelves.
With their pooled experience, De Saegher and Aubecq jumped on an opportunity not only to make superbly engineered cookware in durable and high-performing cast-iron, but – first inspired by the hot orange glow from the inside of their furnace – to coat it in coloured enamel, and in doing so lay the foundations for a cookware brand with more character than any of its competitors. And if you're looking for a gift for the cook in your life this festive season, that's exactly what you'll find almost a century later.
Unique heritage
After refining a unique production process for its now-signature enamelled Cast Iron Casserole – one that's still more or less the same to this day – the popularity of De Saegher and Aubecq's products quickly spread to cooks in the UK and US, who fell in love with its colourful designs in the mid-century era, with its Elysee Yellow colour becoming a favourite not just of home cooks, but celebrities including Marilyn Monroe.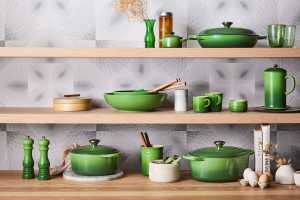 When it comes to Le Creuset's cookware, it's not just the story of its inception – and its rise to the top of the kitchenware market over the following decades – that lends it a palpable sense of history; it's the products themselves, too. That's because every colourful Cast Iron Casserole, Round Skillet and Grill Pan is built to last a lifetime. The brand's mentality is that 'today's cookware is tomorrow's heirloom' – so rather than something you'll own for a few years and replace, each one gives you the opportunity to use it for decades before handing it down to the next generation. Each time you do so, you'll be adding your own little piece of history to the brand's story – one that's more personal, and no less important, than the products, colours and personalities that have come before it.
It also means that every item is a chance for connection with those you love – from gathering together for a winter meal served from a Bamboo Green Cast Iron Casserole to the first time you cook on a Grillit handed down from a loved one and ponder all the meals that have been lovingly prepared before it.
The finest materials
Of course, products that genuinely span generations simply wouldn't be possible if not for the brand's adherence to the standards set by De Saegher and Aubecq years before. Cast Iron products, including the iconic Signature Round Casserole, are designed for optimum heat retention, non-reactive and – above all – durable.
And from the hero products to serveware and mugs, Stainless Steel products, pepper mills, Grillit Pans and more, Le Creuset products are still built to last for generations, with a lifetime guarantee to back it up. So, whether you're stocking up with the most reliable cookware on the market ahead of a busy festive season of cooking, or you're looking for a present for the home cook in your life this Christmas, you can rest assured that a Le Creuset product truly is the gift that keeps on giving.
Find out more at lecreuset.co.uk , or follow the brand on Instagram at @lecreusetuk