Mei Mei's Elizabeth Haigh on hawker markets and Singapore's street food
From vibrant hawker markets to simmering pots of fresh laksa, a visit to Singapore always provides a feast for the senses, says Elizabeth Haigh of Mei Mei
Suhaimi Abdullah/NurPhoto/Getty Images
Whenever I step out of Changi airport, I smile as the wave of humidity hits like a brick wall. Not only because it means I'm home, but it means I'm a step closer to my next Singaporean food hit. I always spend a good amount of the flight planning what I'm going to eat first.
We usually fly home overnight so we can sleep on the plane, but also because when we arrive it's the local dinner time, perfect to refill our bellies.
Elizabeth Haigh's guide to Singaporean street food
We dive straight into a cab that takes us back to our nearest hawker – the name for Singapore's permanent street-food markets – in Bedok, where we head to Fengshan Food Centre and fill the table with food.
It's the same every time: we scatter into the hawker in pairs, a covert army on a mission: and that mission is to eat well. We order a large tray of mutton and chicken satays with sambal and peanut sauce and buckets of Tiger beer.
My favourite dish here is stingray lathered with a sambal (a shrimp chilli paste) folded in banana leaves and cooked over charcoal. The stingray takes on this wonderful flavour, and has an amount of chilli heat that can only be cooled by several bottles of Tiger.
The smells and sounds of the hawkers feel very comforting, yet so alive – so much so that they've made it on to Unesco's list of Intangible Cultural Heritage of Humanity.
These hawkers are the soul and beating heart of the communities of Singapore. Old or young, people gather and dine together like families, despite being strangers. There's a level of mutual respect for everyone here, and security.
The hawker markets are the soul and beating heart of the communities of Singapore. Old or young, people gather and dine together like families, despite being strangers.
In the morning, jetlagged, there's only one pick-me-up and it's an order of kopi from my kopitiam (coffee shop) with a side of kaya toast and eggs at YY Kafei Dian.
You might think that kaya toast – rich coconut jam with heavy amounts of butter – would be too sweet, but dipping that into softly boiled eggs with a touch of dark soy sauce and white pepper: it's the ultimate dippy eggs. You can keep your plain soldiers, thank you – I'm fully converted to this type of breakfast.
Kopi (coffee) is an intense brew of dark roasted ground coffee combined with condensed milk. It's sweet, it's strong and it immediately wakes me up.
From there I head to the wet market next door to draw inspiration from all the different ingredients and produce that we don't have back home, and quiz the stall owners about how to use them.
My last trip was just ahead of the opening of my own kopitiam, Mei Mei, so I was sourcing everything I needed to make it my own slice of Singapore back home.
A visit to the kitchenware shops on Joo Chiat Road is essential, their walls laden with handmade woks, every kitchen utensil you can think of, and bowls and plates in a rainbow of melamine colours. They're my idea of a candy shop.
I chat for hours to the store owners about our project back home (they immediately think I'm bonkers but continue to school me on how to cook, despite me explaining I'm a chef) and I'm inspired by the local multicoloured buildings, picked out a shade of baby pink and blue for our plates and chopsticks and selected the exact same floor tiles the kopitiams use here, too.
Logistically, getting 300kg of inventory back to London isn't an easy or a cheap task, but we somehow manage to sort it with many suitcases.
Food at Mei Mei – in pictures: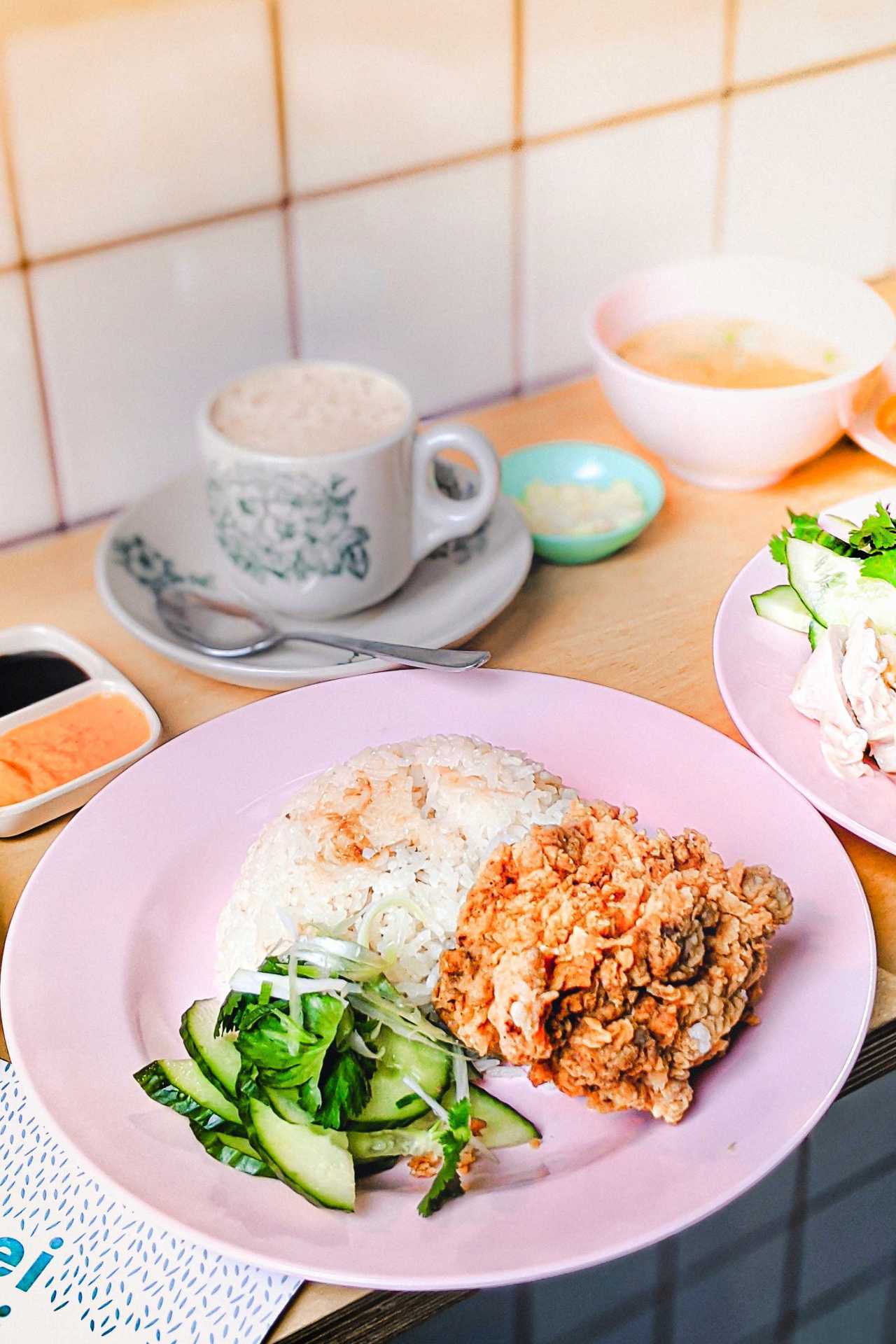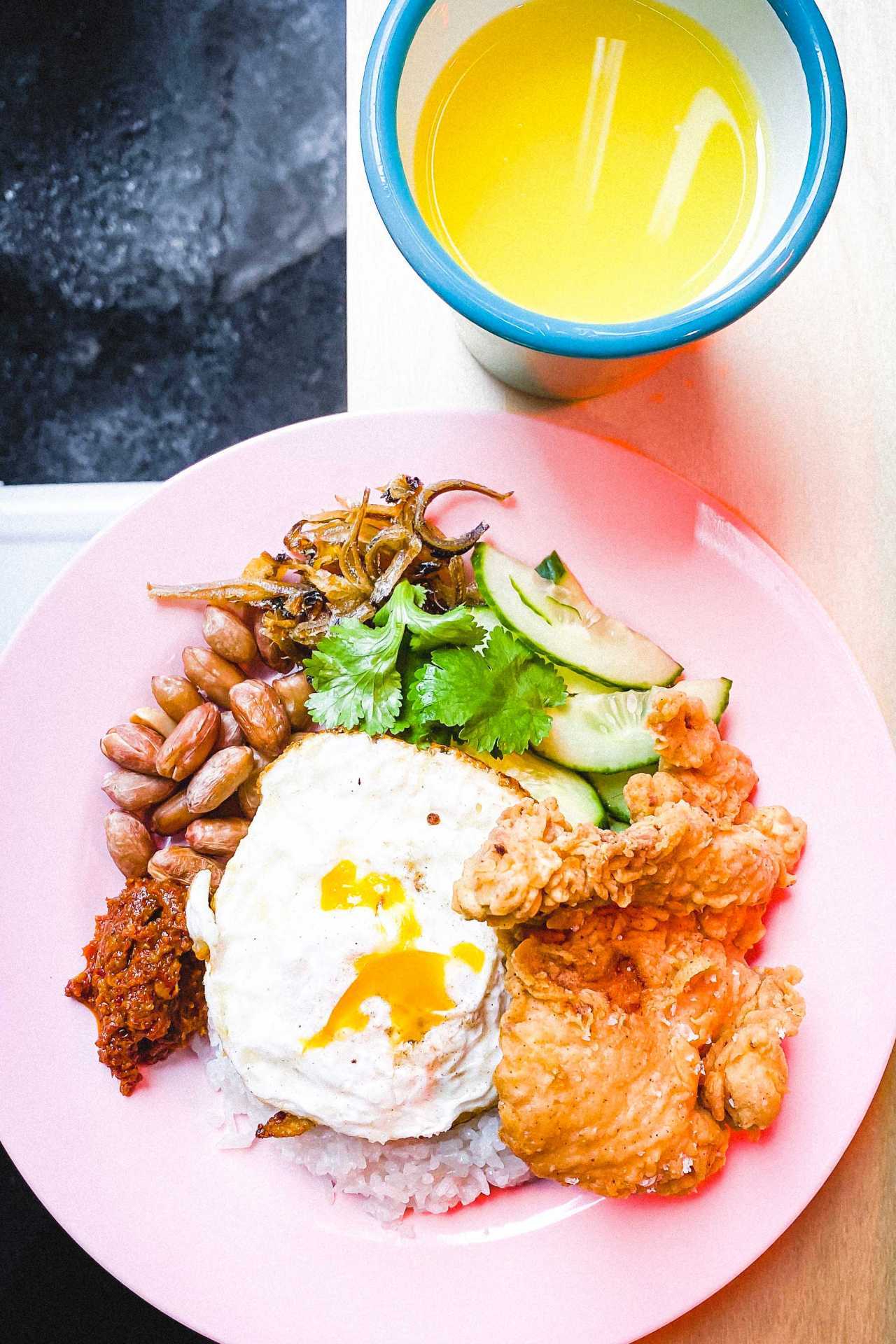 After all the excitement of shopping, I celebrate with a bowl of laksa from Sungei Road. This is no normal laksa: they cook the rempah (spice) paste and coconut soup over roaring charcoals, penetrating the soup with this intense smoky flavour that activates your tastebuds.
The bowl is full to the brim with noodles, cockles, fishcake and sambal. Laksa combines everything from fatty coconut and spicy chilli to sour and tangy galangal to fragrant herbs, and it's one of our national dishes for a reason.
I wash it down with a calamansi lime juice to cut through its richness and heat. I've always experienced Singapore in a very linear way. We would eat locally or with family in our own home, but now as a chef, I want to explore the hospitality scene that I've carved out a career in.
This time, I'm invited to Nouri by chef-owner Ivan Breham to experience Michelin dining. His study and take on food is so fascinating, from having a research team into dishes and culture, to just recreating something very familiar, yet different. I adore every dish like they are pieces of art.
Singapore is a city that never sleeps, so for a nightcap, we head to the National Gallery where I hear there's a rooftop bar that has views of the gorgeous Marina Bay. Every tourist always heads straight to the famous Marina Bay rooftop, but to me, there's no better view than seeing the architectural skyline in its glory.
The architecture here is a glorious mixture of old colonial history juxtaposed with new-age modern architecture. I sip a 'The Farm is Burnt' – a modern take on a classic Bloody Mary made with clarified tomato essence, charcoal oil and vodka – and take in the city, its shops and markets glittering below me.
Sure, the Singaporean lifestyle is the backdrop to Crazy Rich Asians , but for me, the city's food culture offers a wealth all its own.
meimei.uk ; Elizabeth Haigh's cookery book Makan: Recipes from the Heart of Singapore (£26, Bloomsbury Absolute) is out now.