The London pop-up guide: February-March 2019
We bring you all you need to know on where to be, what to see, what to eat and what to drink in our beloved capital. You'll never need to read anything else again
We know, we know, there are enough pop-ups, one-off dinners and and food and drink-related events going on in London at any one time to blow your mind, not to mention seriously clog up your calendar.
So how do you know which ones are really worth going to? That's where we come in: we've cherry-picked our very favourite – and ergo the very best – food goings-on to make it that tiny bit easier.
Sit back, relax and peruse our guide below, safe in the knowledge that people with truly impeccable taste have deemed that brand-spanking-new pop-up absolutely worth the two-hour wait. You are very welcome indeed.
Bombay Talkies at Bombay Bustle
Every Monday until 15 April; 29 Maddox Street, W1S 2PA
Dinner and a movie just got an upgrade. But there's a catch: popcorn is off the menu. Instead, at Bombay Talkies – a series of film nights hosted at Indian restaurant Bombay Bustle – expect to tuck into poppadoms, banana chips and canapés washed down with a glass of Laurent Perrier champagne before settling down for a film and three course meal created by executive chef Surender Mohan. The pop-up cinema runs until April and is inspired by the original Bombay Talkies, the movie studio which revolutionised cinema in Mumbai in the 1930s. Experience all this and more for just £52pp every Monday.
Margarita Masterclasses at Ella Canta
Now until 30 April; One Hamilton Place, W1J 7QY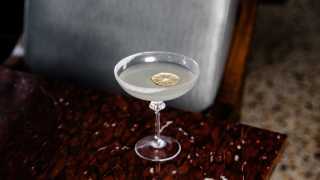 What's your margarita game like? Average to middling, we'd assume. Well, mate, it's time you sorted that out. From now until the end of April, Ella Canta will open its doors to the public to discover the secrets behind making the perfect tequila cocktail for the beginning of its series of nifty margarita masterclasses. Taught by the bar's resident alcohol experts, you can expect to leave the bar well-versed in all things margarita. Don't worry if you're a bit of a lightweight, either. There'll be plenty of food to soak up the damage from the mezcal tasting. Guacamole, quesadillas, and tostadas round out a spread of top-notch Mexican dishes. Tickets cost £69.
Brixham Lunch Menu at Wright Brothers
Monday to Friday from 12-3pm; various locations
Seasonal, sustainable and savings might just be three of our favourite things – which, given that they're the three ideas that underpin Wright Brothers' two-course set lunch menu, might make this £20 spread one our favourite offerings in town. It's no £3 meal deal, sure. But if you have clients or parents hanging around, the Brixham Lunch Menu one might just be for you. The two-course set menu will feature a variety of seasonal catches for just £20 per person. Dishes change every week, but since Wright Brothers is known for sourcing the freshest fish around, you know it's going to be good. Plus, it's only available between 12-3pm every week day until March, so the race is on to try it all...
Rita's Café at Matches
11 February-30 March; 5 Carlos Place, W1F 3AP
Taking over the fashionable attic at 5 Carlos Place are the über-cool and wonderful team behind beloved east London-based restaurant Rita's Café. Missy Flynn and Gabriel Pryce's modern American dining is something you really don't want to miss out on. Available until the end of March, expect a vibrant menu of fresh street food inspired by the flavours of Mexico , serving chilaquiles for breakfast, tacos for lunch and churros for afternoon tea.
Smak at Carousel
19 February-2 March; 71 Blandford Street, W1U 8AB
Carousel's open kitchen welcomes another stellar chef this month. Espen Ramnestedt of Restaurant Smak in Tromso, Northern Norway will be behind the pass for two whole weeks of Nordic-inspired feasting. Bringing classic Norwegian ingredients to the capital, the set menu will include the likes of chicken liver pâté with sourdough and truffle snow and reindeer with cloudberries and chanterelles. Sounds lip-Smak-ingly good. (We'll see ourselves out...)
Sake Week
From 22 February - 3 March; various restaurants
Discover sake 's food pairing potential during Sake Week this year. The week long celebration of the fermented rice beverage arrives in London from 22 February – 3 March with a number of fantastic restaurants across the capital (including Machiya , Sushi Atelier, Ko, YEN, Ginza Onodera, Benihana, Izakaya Hannah and more) committing to embrace the wine through a range of bespoke and intriguing food combinations. What better way could there be for your palate to explore what sake has got to offer?
Saxon + Parole pop-up at Balthazar
25-27 February; 4-6 Russell St, Covent Garden, WC2B 5HZ
From 25-27 February, Balthazar will host a collaboration with award-winning New York cocktail bar, Saxon + Parole, bringing an all-American drinking experience to Covent Garden. The bar will offers guests a daily Manhattan Hour, alongside an expertly curated menu of 10 signature Manhattans for £10, from 10pm until close every day. Some of the original creations available include the 'Manhattan On Draught' (Rebel Yell Small Batch Reserve, Martini Vermouth, Leather Bitters) and the 'New York Sour' (Yellowstone Bourbon, Ginger Liqueur, Galliano Autentico, Turmeric Honey, Lemon Juice and Spiced Wine).
Magic Breakfast's Magic Brunch
3 March; Bistrotheque, 23-27 Wadeson Street, E2 9DR
A fundraising feast raising money for hungry school children? Sounds like a cause we can get behind, and good thing too because that's exactly what will be happening on Sunday 3 March at Bistrotheque. Led by Magic Breakfast – a charity which provides healthy breakfasts to hungry and malnourished school children in disadvantaged areas of the UK – the Magic Brunch will see some of London's best restaurants come together to put on quite the spread. The full menu can be viewed here , but expect the likes of son-in-law eggs from Som Saa , Gunpowder Poha from Gunpowder London and fabulous French Toast from hosts Bistrotheque. What's more, there will be cocktails from Three Sheets, fizz from Karma Cola , raffle prizes, a live auction and entertainment from pianist Xavior and DJ Chewy Chewerson. Tickets start at £45pp with an option £20 donation, which will provide a health breakfast for a hungry child every school day for a year. We'll see you there.
Brat x Elkano dinner
5 March; 4 Redchurch Street, E1 6JL
Six course, three chefs, one kitchen: it can only be Brat 's special collaboration with Aitor Arregi and Pablo Vicari of Michelin-starred Elkano, the San Sebastian restaurant famed for its style of flame-fuelled cooking. Tomos Parry, Brat's chef-founder, will dish out half the menu, while Arregi and Vicari will take on the other three courses. Cooking over charcoal is the name of the game at this one-off dinner. And, although the menu is yet to be confirmed, one thing is for sure: it's going to be delicious. Don't miss out, contact bookings@bratrestaurant.com on 19 February at 9am to book.
House of Holi at Cinnamon Kitchen
6-21 March; 9 Devonshire Square, EC2M 4YL
Get your finest white threads at the ready because House of Holi is set to return to Cinnamon Kitchen City in Devonshire Square for its fifth year. Running from 6-21 March, the House of Holi will once again open the floor to 30 minutes of paint pelting your friends, family and colleagues to celebrate the Indian Festival of Colour. Tickets are priced at £22 per person and includes a Play Holi session, a Holi cocktail, or mocktail, and authentic Holi bites. No Indian celebration would be complete without a feast of delicious dishes and Cinnamon Kitchen will be serving up a spirited five-course menu available for £35 per person.
An exceptionally rare afternoon tea
25 March; Claridge's, Brook Street, W1K 4HR
Afternoon tea at Claridge's just got even better: on 25 March, Claridge's executive chef Martyn Nail; René Redzepi , co-owner of the two-Michelin star restaurant Noma; and Richard Hart, founder of Copenhagen's Hart Bageri will team up to create a special, one-off charity afternoon tea sitting. With tea cocktail pairings by Henrietta Lovell (founder of the Rare Tea Company) and entertainment from comedian Alexander Armstrong, it's not one to miss. Plus, it's all in aid of Rare Charity, an initiative offering young people, within tea producing communities, access to education. What's not to like about that? Get involved at rarecharity.com/afternoon-tea where one £5 donation will put you in the running to win one of 50 'golden tickets' to the event. Winners will be contacted on 19 March. Best of luck.