Manteca, Shoreditch: restaurant review
A temple to the gods of carbs and cured meat: Manteca finally found a permanent home in Shoreditch, and here's why we're very glad it did
What's the draw
January: widely considered a time to hunker down, to recoup after the festive season, to – dare I say it – be a bit more "healthy". If that's where your head is at right now, you should probably look away, because Manteca – a glorious temple to the gods of carbs and cured meat – is a riot of indulgence, all the way from the wine list to the hand-rolled pastas and fire-grilled meat. The concept has been around for a while – it was originally a six-month residency, then had a short-term lease in Soho – but we're feeling blessed that it's finally found its first permanent home on Curtain Road, which opened late last year. A collaboration between David Carter, also of barbecue icon Smokestak, and ex-Petersham Nurseries chef Chris Leach, Manteca will blow the January blues out of the water.
What to drink
You're in Shoreditch so you've got some of London's best bars within easy reach for a sharpener, but if you'd rather cut right to the chase, you're well served with Manteca's drinks list. The extensive cocktail menu has a short list of classics and an impressively long list of house, dominated by aperitif-style drinks and the usual amaro suspects, like Cocchi Americano and Campari. The wine list, too, is lengthy. It's been handily organised into 'classic choices' and 'down the rabbit hole' options for more funk-forward glasses and bottles. We whet our whistle with a glass of orange pression 2020, from a wine project called Les Vins Pirouttes that brings together a collective of growers in Alsace, France: a musky, unfiltered skin-contact number bringing together notes of creamy stone fruits with a fresh hit of minerality.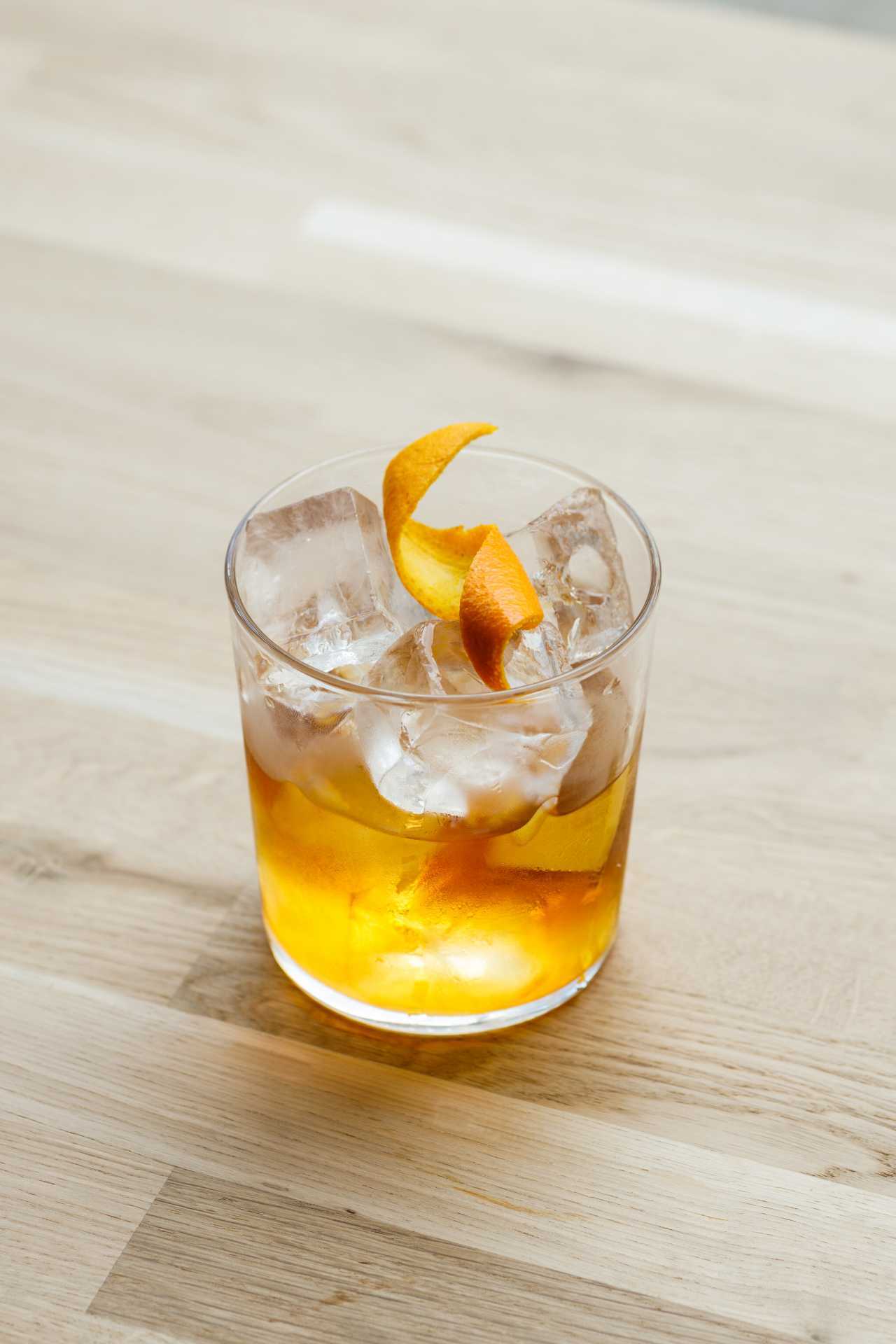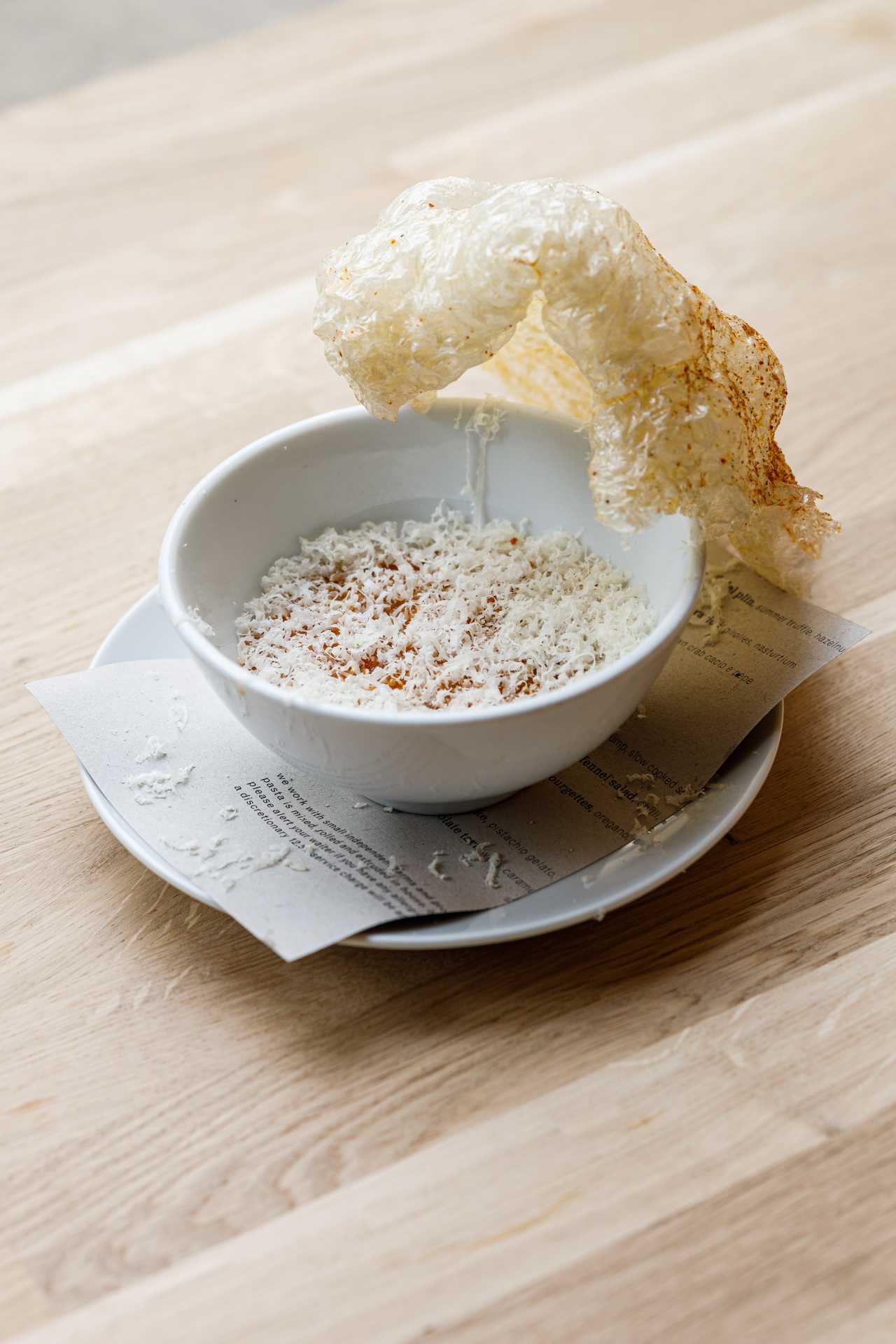 What to eat?
Make sure your outfit is capacious enough for some serious eating, because this is place to get down to business. The menu changes regularly so there might be some switch-ups, but we kicked off with a clam flatbread, a blistered hunk of bread reminiscent of the infamous dough balls from a certain well-known pizza restaurant, but made gourmet with juicy, lemony and clam-y (but definitely not clammy) flavours, and the slab of pig's head fritti, lifted by a bowl of hot sauce and a jaggedy-edged celery leaf. Keeping with the theme, the pig's head ragu has been getting a lot of air time, and rightly so: a bowl of thick brown goo (in a good way) arrives with a sheet of salty crackling designed for scooping with abandon.
This is where things begin to pick up pace, with earthy brown crab cacio e pepe a welcome shake-up of the viral pasta dish; and ribbons of fazzoletti coated with duck ragu saved from being too rich with crispy bits of skin and a pop of freshness from finely chopped herbs. On a side note, Manteca's pastas and breads are made with flour from cult brand Wildfarmed, the regenerative agriculture crusaders, their ancient wheat giving extra bite and complexity.
If you still have space – you won't, but you should go for it anyway – we enter the part of the menu where eating becomes some sort of delicious challenge: the meat. We somehow managed to take down the Herdwick cull ewe, a chop served only with a lamb sausage, whose skinny appearance is made up for by strength of flavour. There are terrific desserts, too – a sunny yellow winter citrus curd cuts through all the fatty flavours you've just devoured, made even more refreshing by a welcome hint of juicy mango. After all that, you should find somewhere to put your feet up: you've earned a nap.
From £6 for small plates; wine from £6 by the glass. 49-51 Curtain Rd, EC2A 3PT; mantecarestaurant.co.uk