The best burgers in London
From Honest Burgers to Shake Shack, Patty & Bun to Bleecker, London is full of prime patties and pillowy buns. Keep reading for Foodism's guide to the very tastiest burgers in London
Eating a hamburger is truly one of life's simplest – and most satisfying – pleasures. Whether it's an incinerated burger at a family barbecue or the comforting consistency of a Big Mac when you're abroad, a burger hits the spot in a way that not many other types of food can.
There's something delightfully animalistic about biting into a juicy seared meat patty, delicately sat inside of a soft bun that threatens to fall apart at the seams. That heady maillard reaction which charred ground beef comes to the party and delivers a umami hit you'll struggle to get from a salad. And whether you like your burgers rare and bloody or smashed and crispy, it's hard to deny that London caters fairly well to the hamburglars among us.
All too often, however, we also find ourselves let down by the city's plethora of disappointing burgers: by patties that are grisly and overcooked, by buns that require a mandible of steel to wrench apart, by "low-carb" options where lettuce buckles under the pressure of living up to bread's lofty standards and leaks sweet burger nectar all over your shirt.
You already know the difference between your Shake Shacks and your Five Guys , you know your Big Macs from your Whoppers, but here's a check-list of the very best burgers in London to blow your burger-loving mind. From classic burgs with nothing but cheese to teetering behemoths filled with all sorts of foodstuff (haggis and avocado included), keep scrolling for all of the noteworthy burgers in London (in no particular order) that deserve to be added to your to-eat list.
The best burgers in London
Cut + Grind
The Urbanest Building, Canal Reach, N1C 4BD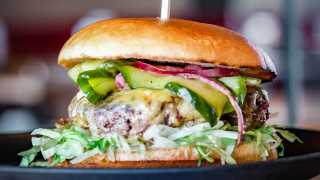 Like its name suggests, Cut + Grind select, cut and grind all their burgers in-house every day. The result is that every burger comes rammed with a thick and fresh meat puck of your own choosing. Cut + Grind qualifies as one of the best burgers in London thanks to the levels of customisation levels: you're given the option to choose between either a 'juicy' or 'skinny' blend of beef patty in your burger. Plus, all of C+G's meat comes from award-winning British and Irish farmers and the best way to really taste the provenance of that mince is by ordering the Beef Brave burger. Containing nothing but the bare bones of an aged beef patty and burger sauce, the Beef Brave is recommended for even the most cowardly of eaters.
Slow Richie's
Blenheim Grove, Peckham Rye, SE15 4QL
As permanent food residents at Brick Brewery , Slow Richie's has fast become one of the best burgers in London - and one of our favourite burger spots in the city. The 'Haggis Hog' isn't your typical beef and cheese patty affair; slow roasted pork , haggis and Slow Richie's signature BBQ sauce make up the bulk of this bad boy. It's an entire meal in of itself but a portion of hand-cut chips on the side doesn't hurt now, does it?
Mother Flipper
Brockley Market, Lewisham Way, SE4 1UT
Street food stalwarts (and KERB legends) Mother Flipper know their mother flippin' burgers. And if you get your perfectly griddled cheese burger topped with bacon fried in maple syrup – as it comes in the Candy Bacon Flipper – you're going to be taken to another realm altogether. You need never aimlessly Google best burgers in London again.
Le Bun
34 Coate Street, E2 9AG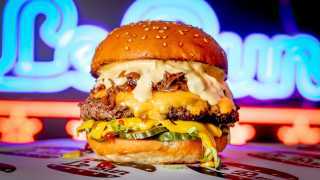 You know what they don't call a quarter pound with cheese in Paris ? A Le Royale Cheeseburger. Which we're pretty thankful for considering that Le Bun's cheese beast is a hell of a lot better than anything you'll get at McDonald's. The melted meat perfection that is the Le Royale Cheeseburger might just be the best bun on Le Bun's menu (and most certainly one of the best burgers in London). It's a West Coast cheeseburger given an Xzibit-esque upgrade with an aged beef patty, bone marrow burger sauce, smoked pickles, confit beef fat onions, and good ol' American cheese in a demi brioche bun. Ronald is shaking in his comically large boots.
Manna
103-105 New Oxford St, Greater, WC1A 1DB
Quickly becoming a standout addition to Arcade Food Hall, Manna's burgers have garnered something of a cult following since launching earlier this year. Their smash beef burgers have everything you want: crisp patty, gooey cheese, softy-yet-structured bun and sauce combos that range from the classic (mustard, ketchup) to the spicy (hot sauce and chilli oil). But it's their Nashville hot chicken bun that really steals the show. A comically large piece of crispy fried chicken is doused in cayenne pepper and manna sauce, before being sandwiched in a bun with lettuce and cheese. It's the kind of burger you'll finish and immediately want to eat again.
Beer and Burger
Various locations
Beers and burgers go together like jam and peanut butter. One without the other is like a fry without ketchup. It makes sense, then, that Beer + Burger have built their entire business model around bringing the two together. With a huge selection of craft beers both in the fridge and on tap, you're at no risk of going thirsty while you make your way through their extensive menu. A solid list of classic burgers is supplemented each month by a more adventurous rotation special burger, alongside a lengthy amount of sides that include crispy mac and cheese bites and fries lathered in cheese and gravy.
Black Bear Burger
Various locations
Black Bear Burger is an absolute bruin of a burger. It's a meal gone wild (bam-a-lam), that'll get you high (bam-a-lam), you know that's no lie (bam-a-lam). It's goes without saying that this sandwich is "so rock steady" but what's inside the burger, you ask? Well, aged beef, American cheese , pancetta bacon and garlic mayo are all ram jammed inside it, of course. And, Goddamn, that garlic mayo is divine. If we could eat this everyday without incurring any lasting damage on our cholesterol and bank account: we would. Whoa, Black Bear, bam-a-lam…
Honest Burgers
Various Locations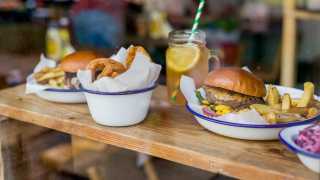 If you're looking for a consistent burger experience in London, it's hard to look past the Honest Burgers chain. There's heaps of the dotted across the city and – despite their seeming ubiquity – each offers a pretty slamming burger experience. The Tribute (HB's ode to the classic American burger) might be one of the best burgers in London on Honest burgers menu (bar their seasonal offerings). A beef burger with bacon , American cheese, burger sauce, French's mustard, pickles, onion and lettuce. It's a crowd pleasing classic for a reason. The complimentary rosemary salt chips really sweeten the deal at Honest Burgers but it's the high quality meat that makes the trip worth it. It might not not exactly pushing the boat out there, but, if it ain't broke: don't fix it. And if it runs as well as the Tribute? Enter that baby in a street race Vin Diesel-style, baby!
Shake Shack
Various locations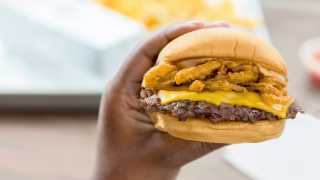 Admitting that the burgers at Shake Shack are good feels a bit like we're handing in our British passports and decking ourselves up in the stars and stripes. We're sorry, blighty, we really are. But the smash burgers that are slinged out of Shake Shack's ever-growing arsenal of burger eateries are pretty good. They've got that umami flavour down to a tee, the maillard reaction in full force as every crispy, singed end of the burger sings a song of summer barbecues in your mouth. While nearly always team one patty in the burger department and, despite how thin the patties used by Shake Shack are, the joint's ShackMeister really benefits from single hunk of meat. The beef shines through and plays well with the signature burger sauce. The chips? They're crinkle cut and fairly forgettable. Just get two ShackMeisters instead.
MeatLiquor
Various locations
MeatLiquor's branding is fairly obnoxious. The ambience is borderline offensive. "Edgy" graffiti and an aesthetic that's not as cool as it thinks it is. Remember when they did that promotion where you'd get free burgers for life if you got the MeatLiquor logo tattooed on you? Yeah. Sadly, the burgers are good. The Dead Hippie is decadence in a bun as two mustard-fried beef patties, Dead Hippie sauce, lettuce, cheese, pickles, and minced white onions combine for a messy affair you certainly won't be telling your significant other about.
Bleecker
Various locations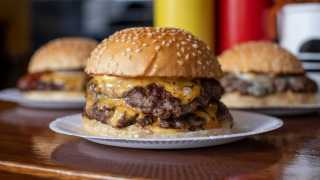 There ain't nothing bleak about ordering a double cheeseburger at Bleecker. Double beef? That ain't bleak. Double cheese? That ain't bleak, either. A soft as bun that practically melts into nothing? Still not really getting any notes of bleak over here. And that's because eating at Bleecker is a promise of better things to come – a look towards the prosperous future. Yes, the double cheeseburger at Bleecker is hope in it purest incarnation.
Patty & Bun
Various locations
Named after the motor mouthed talent agent played by Jeremy Piven in the HBO series Entourage, the Ari Gold cheeseburger at Patty & Bun is an A-list sandwich to say the least. Wedged between two perfect halves of a glossy brioche bun is where you can find P&B's signature aged beef patty (and mayo) melded with lettuce, tomato, pickled onions and topped with a generous layer of cheese. It's a soft and fall apart kind of affair. The kind of burger that bears your finger prints once you grab a hold of its perfectly domed exterior. An ideal lunch-time option when you're in the mood for something quick, simple and meaty.
Burger & Beyond
Various locations
You know what's not bougie? Mayonnaise. You know what is bougie? Marrownaise. Burger & Beyond's Bougie Burg really does take the burger that little bit extra with its mayonnaise plumped up with bone marrow to ensure that you get the most out of your meal, but it doesn't stop there. The American cheese is smoked and even the onions are cooked down in beef fat till they reach a meaty residue you'll barely recognise as ever having once been a vegetable. If you want a joint that will take your pleasure levels up to infinity, you need to go to Burgers & Beyond. Order the Bougie Burg, tell 'em we sent you, and thank us later.
Lucky Chip
Various locations
Everything's better with aioli. Fact. Everything's better with bacon. Fact. A burger with the above alongside an aged beef patty, roasted jalapeños and blue cheese is better than most burgers you've ever eaten. Fact. Hence why the El Chappo burger is one of the best burgers in London, without a doubt. Grab one from any of Lucky Chip's London outlets for an eating experience that's just...well... better than most. Although, in saying that, you're pretty safe with most of the menu here.