Alain Roux and the continuing legacy of The Waterside Inn
Having been chef patron for more than two decades, Alain Roux is used to being the driving force in the restaurant's kitchen. Two years after his father's passing and with Michel's presence still keenly felt, he talks about what's next
There aren't many chefs who can claim their first foray in restaurants came quite so young, but at just six months old Alain Roux was already a fixture at Le Gavroche. "My mum used to keep me behind the bar in my little bed and go and do her shopping," he laughs, as we discuss his 38-year career on the weeping willow-shaded veranda of The Waterside Inn. "Between the restaurant manager and the barman, they used to keep an eye on me in my little cot."
It's hard to say whether this early introduction was the very start of Alain's love of cooking and restaurants, but his life-long dedication to excellence has certainly served him well. The Waterside Inn's three Michelin stars have been retained for 38 years – the longest any restaurant outside France has held such an accolade. And while Alain is long reputed to be one of Britain's very best chefs, he acknowledges there is an enormous team effort behind it all: "Nothing is achieved alone in our industry," he says. "Even my dad used to say that and it's true. It's not a one-man show. My dad always had a head chef. Always."
Yet excellent teams come from excellent leadership and Alain Roux has been leading the team as chef patron of The Waterside Inn since 2001, with the support of his father's wealth of experience and insight until his passing in 2020. With the pandemic having halted operations on and off for two years, Alain is now leading his teams into a new era, continuing the renown and prestige of the restaurant. This is alongside the success of the Brasserie Roux at Skindles in Taplow; the new residency at Le Normandie at the Mandarin Oriental in Bangkok; and his plans to open a new culinary school and a library dedicated to Michel in his father's former residence.
With such a long career spent here, however, it's easy to forget that before he arrived back in Britain having returned to France as a child, Alain Roux had already gained experience in some of France's finest culinary establishments, starting with an apprenticeship under the renowned pâtissier Denis Ruffel at Pâtisserie Millet in Paris, where he started at 16. "Everything was homemade, classic, traditional," he says. "At that time, it was certainly producing the best up to date recipes and creations. It was the place in Paris, perhaps even in France."
My mum used to keep me behind the bar in Le Gavroche when I was a child. The staff used to keep an eye on me in my cot
Having completed his apprenticeship, Alain then spent the next six years in the kitchens of some of France's most esteemed restaurants, including the three-Michelin-starred Restaurant Pic in Valence with chefs Alain and Jacques Pic, La Bonne Étape in Château-Arnoux in Provence, and La Côte Saint Jacques in Burgundy. He also did a year's national service working as a cook for French president François Mitterrand at the Élysée Palace.
Throughout this time, his knowledge of techniques and ingredients was growing, especially given how varied French cuisine is in its various regions. "There's always something more, something different to learn. And there's so many different ways of preparing and working on fish, meat or vegetables," he says. "Sometimes little changes make quite a difference to the dish. That's one of the most beautiful things in our job: you are always learning, always."
Although many of the techniques he was learning were new to him, aspects of the operational side were familiar. "All the restaurants I worked in were family businesses. Most of them had various family members who were all involved in the business somewhere, and some were big families," he says. Although they varied greatly in size, "some had just a handful of people as the whole team, and some others were huge. When I was at Restaurant Pic in 1987, there must have been 50 people in the kitchen. We used to cater to 180 to 200 covers in a service."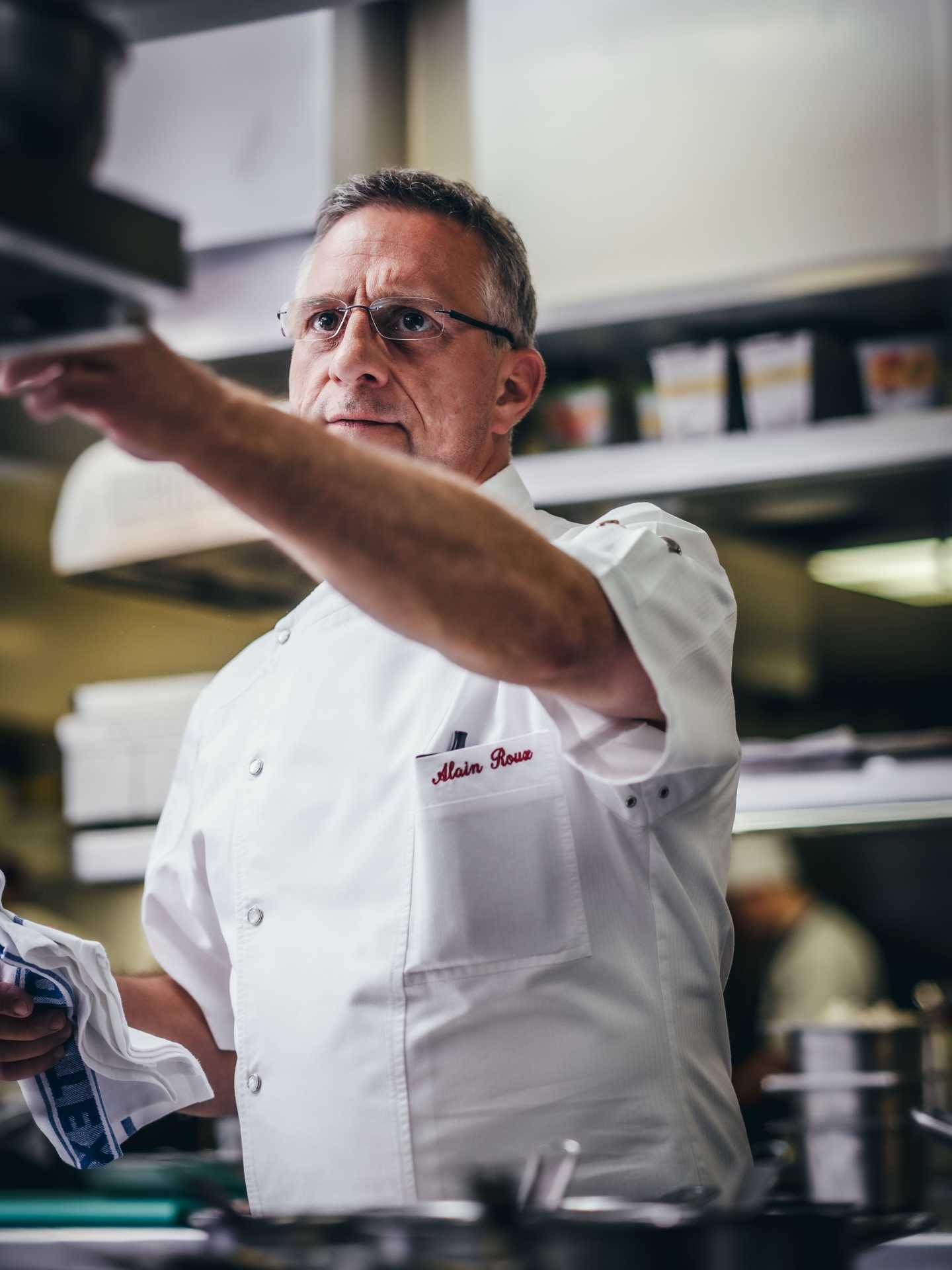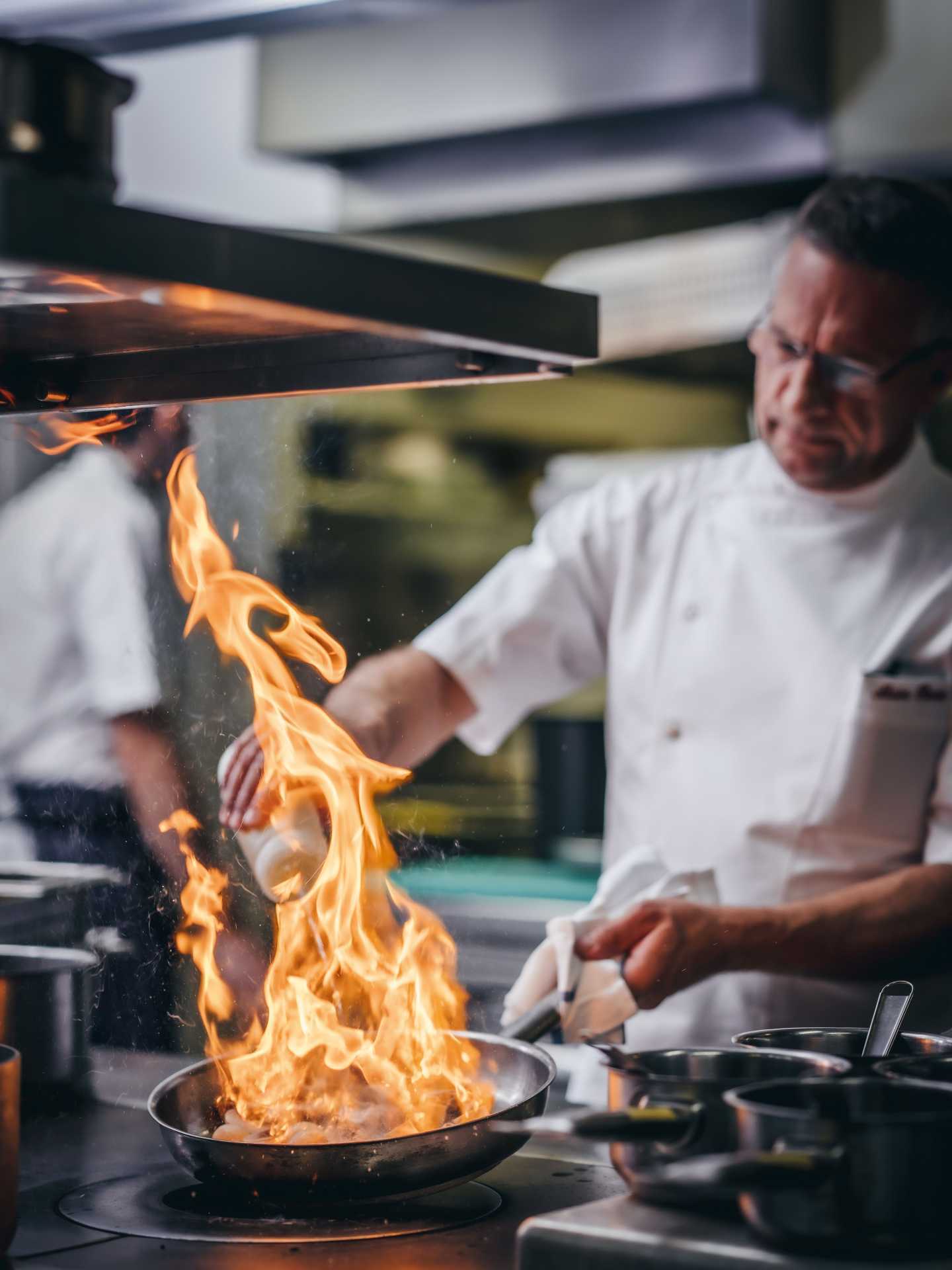 By 1992, when Alain was aged 24, his desire to get to know the father whom he had grown up largely without led him back to Britain, the country of his birth, and he took a role of demi chef de partie at The Waterside Inn. "These days you would never see a chef with eight years' experience coming into any restaurants in this country for a demi chef de partie job, they would laugh at you," he explains. "At that time, it was normal. And it was better that way. If you come from a solid grounding like that, it is better to when you get a promotion. It's much easier. Some people start at too advanced a position and then end up struggling, because they can't cope – they can't do the job."
While he was more than capable of the work required, there were other challenges he had to face – namely getting to know his father. "I knew it was going to be a challenge because I'd never worked with Dad. I had a relationship where, as a father and son, we didn't really know each other. So, basically, we had to make up for all the lost time. And my job was to do it The Waterside Inn way."
This, of course, can go two ways: either the father is too soft on the son or, as in the case with Michel and Alain, he is even tougher. "We had some bad days. And we had to have a few talks in his office. He was a bit harder on me than other young chefs or the rest of the team, which is very old-school. But I think it was the right way to do it," he says. "Some of the brigade were suspicious of me too, thinking I was spying on them or trying to take their job. It took me three years to figure out it was a good move."
As time went on, the father and son grew closer and Alain climbed the ranks in the kitchen brigade. Around six years in, Alain finally felt he knew his father thanks to a twist of fate. It happened while head chef Mark Dodson and his sous chef were both working on a Celebrity Cruises ship for ten days, while Michel was consultant chef for the company. "Dad lost his voice," Alain recalls. "Totally lost it – not a sound. Can you imagine my dad not being able to shout or swear?" he laughs.
"At that time, I'd just been promoted to sous chef, so I had to run the pass with him because he couldn't speak. We would look at each other, know what each other was thinking, and I would say what was required. I don't think it would have worked with anyone else – there was this father-son understanding between us. I know he was in pain, but even so, there were some fun moments, especially when things went wrong and he expected me to swear at the chefs or waiters as he would have done. I said 'I'm not saying that! He's too nice. I can't!' That was a big lesson, and a big joy."
Dad said 'I'm stepping out of the kitchen. It's perfect timing if you're confident enough to take over'
By 2001, Alain and Michel had been working alongside each other in the kitchen for nearly a decade, the long-serving head chef Mark Dodson left for pastures new and Michel also decided he had other work to do.
At this point, Alain was named chef patron of The Waterside Inn. "My dad said 'Well, that's it – I'm stepping out of the kitchen, too. It's perfect timing if you're confident enough to take over,'" says Alain, relishing the memory. "I thought, 'Gosh, that's it – he's really putting some trust in me. And he's giving me a greater challenge than I've ever had before'."
Fast forward to 2022 and, despite the challenges of the last two years, the future looks rosy. The family's brasserie Roux at Skindles, which launched in late 2018, has found a place in the hearts of the local community in Taplow, just as the legendary hotel on the same site had for years before. "The history of Skindles is too big and too well known to have left the name behind," says Alain. "The oldies have great memories of spending time at Skindles. Either dancing, eating or drinking, and even some swimming in the underground pools. I'm not sure how many bathing suits were worn either!" he says through a characteristic giggle.
Where there was once high revelry, there is now a sophisticated brasserie with a rooftop cocktail bar and a superb menu. "It's very different from The Waterside Inn. We didn't want to do a 'Waterside mark two', explains Alain. "It has a strong influence of French cooking but, saying that, there are no boundaries, so we take influences from all over when we want to, especially as head chef Raj Holuss is so accomplished. He was a sous chef at The Waterside Inn, and he's got a background of working for Daniel Boulud in New York and John Williams at The Ritz.
"The food is simple, but what is the same as The Waterside is the ingredients. It's fresh, cooked à la minute, whereas many other high-street brasseries rely on frozen ingredients cooked centrally in so-called 'dark kitchens'. If it's homemade, if it's fresh, I don't think you can beat it. Especially when its location is on the river in a beautiful setting and there's a nice, friendly team."
More recently, Alain has opened his residency at Le Normandie, the fine-dining restaurant of the Mandarin Oriental in Bangkok. Set on the top floor of the hotel, it offers a heart-soaring view through its floor-to-ceiling windows of the River Chao Phraya and its Waterside Inn-inspired menus bring his exquisite haute cuisine to a new clientele. "It's the restaurant in Bangkok. It's got a history like no other restaurant there. And just after a month of us being there, the Michelin Guide came out and it was awarded two stars." With the day-to-day running of the restaurant in the safe hands of head chef Phil Hickman, who ran Alain's residency at The Balmoral in Edinburgh, Alain goes to Bangkok for a fortnight four or five times a year, accompanied by his team from The Waterside Inn, namely chef Michael Nizzero and Frédéric Poulette. "We adapted the menu slightly, and tweaked a few things, but it's pretty much as close as we can get to The Waterside Inn," he says. "The clientele like to feel as though they're travelling when they eat there, even if they're still in their home city, and come to enjoy a style of cuisine, and ingredients they can't find anywhere else."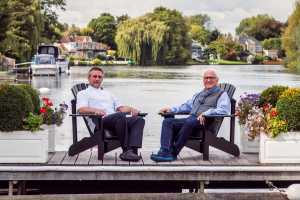 Perhaps the most challenging decision Alain has had to make since his father's passing is what to do with Michel's house. It is adjacent to the restaurant, set slightly back from the river, and as such the residence is almost part of The Waterside Inn.
"I couldn't see myself living there," says Alain. "I'm happy where I live, but I couldn't sell the house either because it's too close to the business. So I thought, 'Well, can it have a use for the business?' So I looked into getting a Change of Use permit and I thought, 'Well, if there's one thing I would like to do it's to continue Dad's legacy, and my uncle Albert's, too.'
"Dad loved libraries. He loved writing books. He wrote 18, which were translated into 14 different languages. He also had a nice personal collection of books by chefs from all over the globe, plus a few very old, rare books. So I thought, 'Let's use the main room, where Dad actually lived most of the time in the last few months, and call it Michel's Library'." In addition to Michel's book collection, Alain has been discussing the collection of another chef: Andrew Fairlie. As the first ever winner of the Roux Scholarship in 1984, Andrew was, until his death in 2019, very close to the family's heart. "I am in regular touch with his wife Katie, and I was telling her about my plans for the library. And she said, 'While we're talking about books, I've got a lot of Andrew's books that I need to pass on.' So I asked her if she wanted to add them to Michel's library and she said yes." For guests of The Waterside Inn, the chance to browse this exceptional collection of books will be a huge draw. "The restaurant guests can go before or after their lunch or during their stay. They can go there and just look, flick through a few books or they can read for a few hours. We'll have a nice table, chairs and a sofa, so guests can be comfortable there for hours."
The Waterside Inn is a prestigious training ground, and the culinary school allows Alain to take this teaching to new heights
Michel's kitchen, too, is to have a new life and will be transformed into a culinary school, where The Waterside Inn's chefs and front-of-house staff will train, and guests can come and learn a huge variety of skills and recipes, and combine them with a stay and a meal in the restaurant. With chef Michael Nizzero at the helm, with some demonstrations also by Alain and head chef Fabrice Uhryn, its teaching will be world-class. "We'll teach the basics, but also dishes and skills that are a bit more sophisticated, some classic specialities of the house. We'll do some dessert pastries. And we'll do some filmed demonstrations, too, and live cook-alongs that we can share online," explains Alain.
While the visitors to the restaurant will benefit from his late father's house, so too will the staff of The Waterside Inn. "It will be open for our team, front of house or kitchen, too. They will have full use of the library when they want and the culinary school will be a place where the staff can learn," says Alain. "The young chefs will get to learn whole dishes from me, or chef Michael or head chef Fabrice, and we can do one-to-one, or a small group of two or three chefs maximum, and the same with front-of-house. We can do a demonstration or all cook the dish together, and then taste it. We want to make sure that for our staff, their work is not only on the floor with the customers, but that they get something extra throughout the year; those special hours and minutes where we go further in depth and share our knowledge and passion. It will be a place where they have time to prepare dishes and deepen their knowledge of techniques, when usually they're in a busy kitchen. Now they'll be able to take the time. That's my vision.
"Chefs who work here won't just say in future that they've worked in the kitchen, or worked in every section. They'll be able to say they've learned at the culinary school, training and following a development programme, with courses that are exclusive to our staff." The Waterside Inn has always been a prestigious training ground for chefs and front-of-house staff, but the culinary school allows Alain to take this teaching to new heights, preserving the future of young chefs and waiters for years to come.
With Alain's wife Laura taking a more active role in the décor and development of the shop, and a new co-head chef Adam Wright in place to free up chef Fabrice for the culinary school, The Waterside Inn is in safe hands with the current generation of Rouxs. But what of the future? Alain and Laura's children, Paul and Louise, are still too young at 11 and eight years old to know what their future holds, but they are starting to understand their family's impact on the culinary scene. "They know that their name is quite famous in the food scene and that their grandfather was a star from watching him on TV," says Alain. "They've realised because a lot of their school friends' parents come to eat in the restaurant. Paul and Louise tell me 'My friend's parents are going to eat at your restaurant tonight, Dad,' and they are hyped and excited about it. They're very proud." As a chef, but also a father, what better praise is there than that?
This feature was taken from The Waterside Inn's 50th Anniversary magazine, produced by Threadneedle Media. Read more at waterside-inn.co.uk/magazine